Thank you Instagram
Summer 2017
How to Wear One Pieces
Fall 2017
How to Wear Stripes
So...let's sew
For P's school play they needed 19 vests. So I gathered about 9 mothers, 6 sewing machines, 6 bottles of champagne and lots of pastries and we got them done. It was a lovely day. Unexpected and special
Princess Leiah
Was an odd week as Carrie Fisher died unexpectedly and her mother, Debbie Reynolds followed a day later. I always appreciated how candid Carrie Fisher was. The mind is a minefield, and Hollywood has very little sympathy for the intricacies of a woman's mind. In contrast, men's flaws are lauded all the time in Hollywood. It's a rough town. She knew it. And she shared that. Her advice to Meryl Streep, "Take your broken heart, turn it into art"
Independence Day with the Cup
This is my little girl's dog and for July 4th we were actually in Canada visiting family. I wanted to mark it and this image came to mind for reasons I can't explain. July 4th 2016 was not easy. This is not an easy time in America-my adopted country. I feel great love for this country and respect and I feel so much pain. As an actress I don't feel comfortable posting much about my opinions as I certainly am no more qualified than anyone else to assess the issues simply because I make my living on tv playing other people. And yet I worry also that I don't do enough. I'm not helping and so maybe I exacerbate the issues. As I write this I see that drawing a dog on this day may have been apathetic. I don't know. Or maybe, like all dogs, she only gives love, never judges and never discriminates.
Gone fishing
Took my girl on an impromptu road trip. We drove over a thousand miles. I always love to be reminded that there are many ways to live in this country. Still toying with the idea of packing it all in and working a diner in the high desert...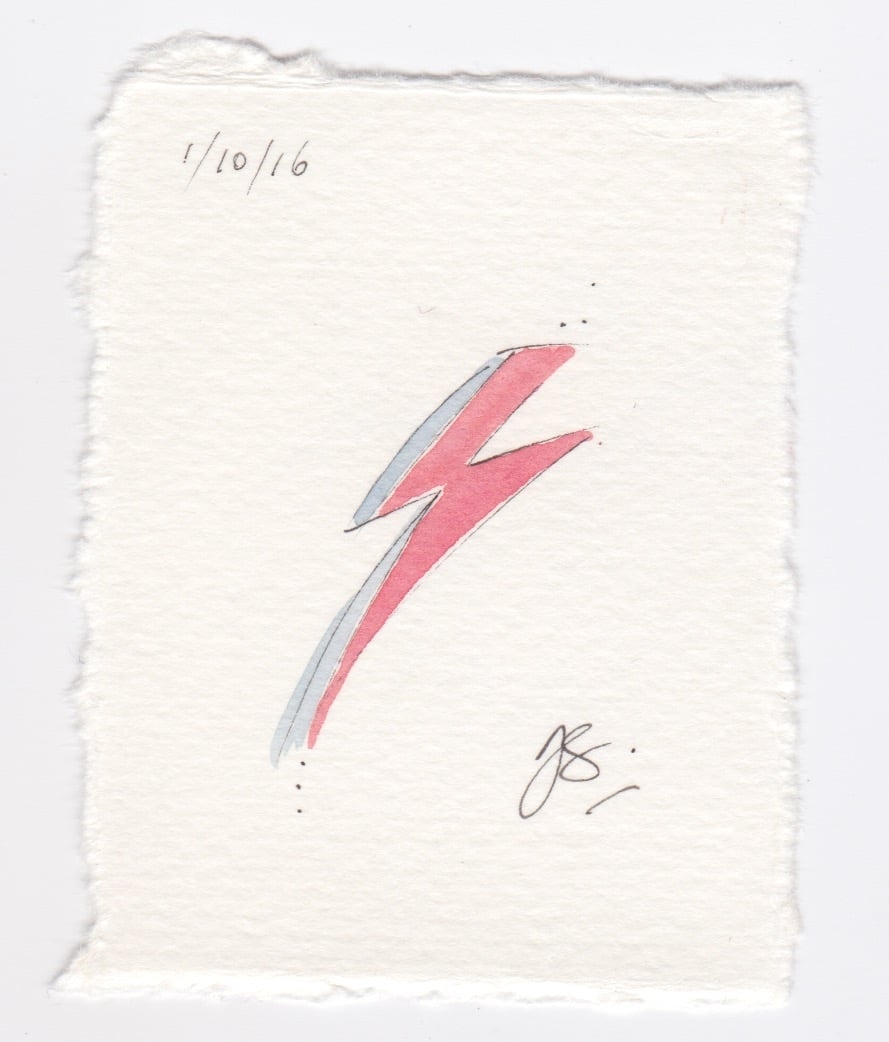 Ziggy Stardust
Bjorn waiting
I drew this of Alexander Ludwig on the set of Vikings. Absolutely lovely guy with a wicked sense of humor.
2016
I drew this on December 31st. My first attempt at a time lapse doodle It was fun, made me think of who I was doing it for...
I drew this in the first season of Vikings on the day Earl Haraldson (Gabriel Byrne) lost his duel to Ragnar (Travis Fimmel). We filmed on location in the Wicklow Mountains. Picture the most idyllic untouched Irish landscape and you are there.
Gabriel was so incredibly generous. He made me an integral part of that scene and I know was the reason Siggy went on to have a critical role in the show. I learned so much from him, mostly that the more you give as an actor the more you get.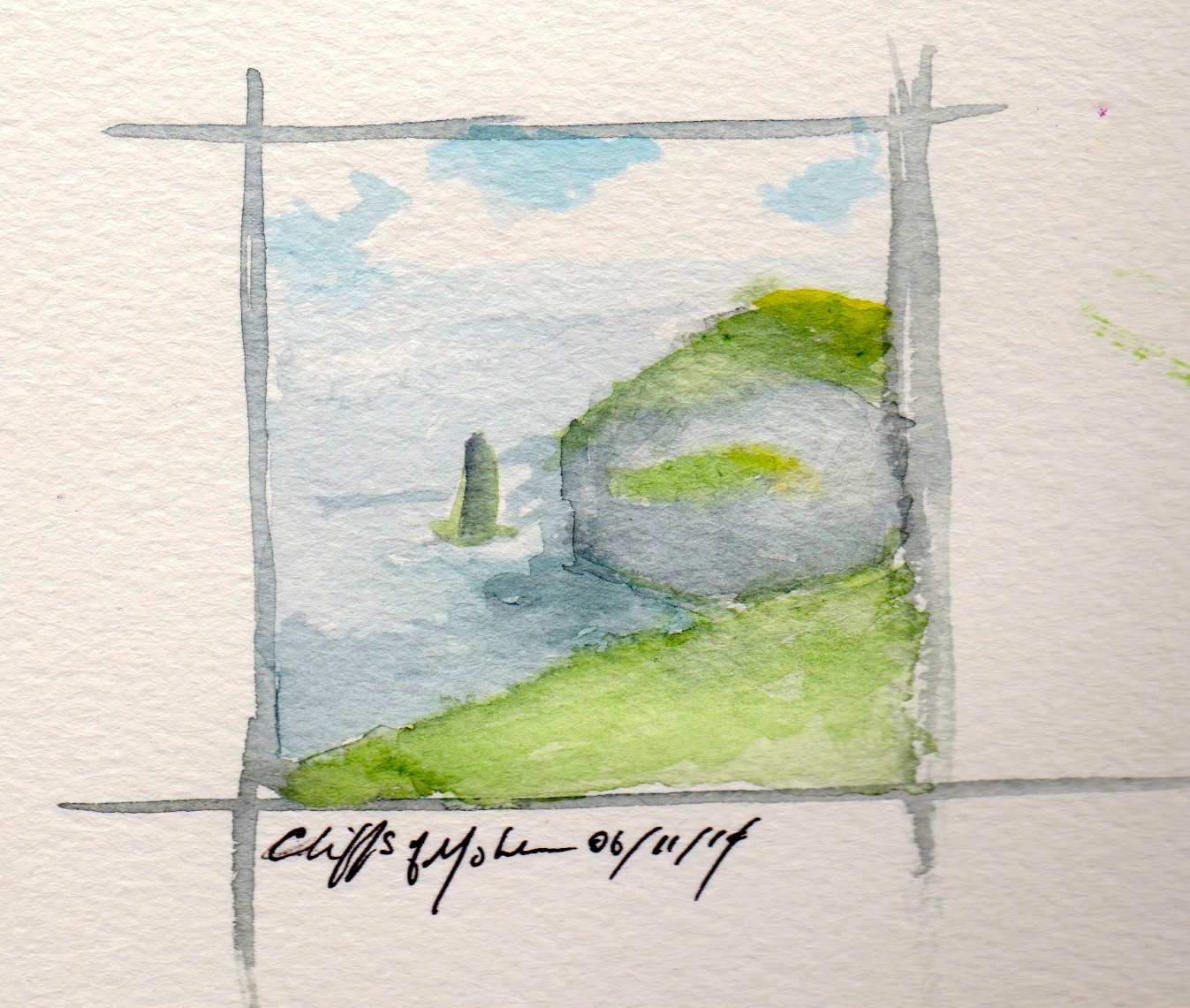 Cliffs of Moher
For some of the time I was in Ireland filming Vikings I was away from my daughter who was five when we started. This was the reason I ultimately asked to leave the show. It never ever felt right to be so far from her. There were times when I would have long stretches of time off from shooting but because of the weather in Ireland I would have to stay close in case the schedule was changed due to rain.
At one point I was so restless I got in the car and drove West. I am so glad I did. The Cliffs of Moher were beyond description. It was a great reminder that nothing is permanent and to try to stay positive and in the moment, knowing that change is inevitable.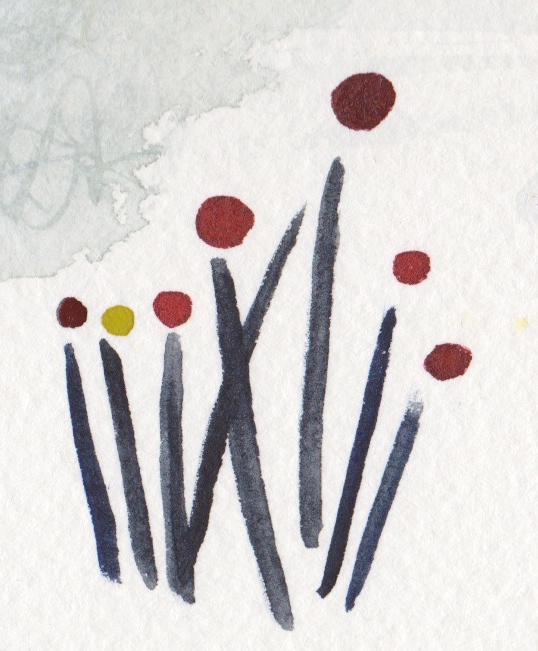 Galway
While in Galway I stayed in a lovely bed and breakfast. The owners had done a beautiful job decorating the place. When I asked who the artists were they told me they had spent a weekend producing most of the art themselves. Some of the pieces were so simple yet so evocative. These three little watercolors are basically rip-offs of their techniques!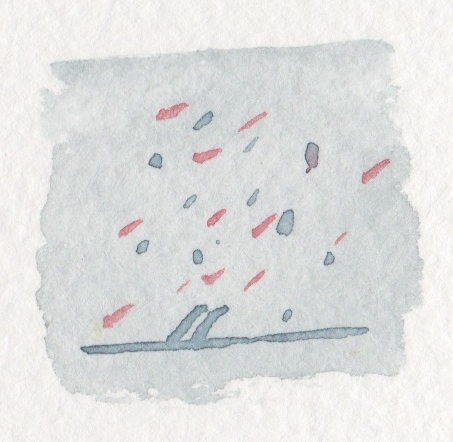 Galway

Galway
Dinner for One
While in Galway I took myself out to dinner at an Italian restaurant. It's impossible not to cast yourself in a Diane Lane movie when you're out in a charming Irish city eating pasta and drinking a half carafe of chianti. I remember two girls came up to me excited to recognize me from Glee. You really never can predict where in the world that will happen.
I remember I tried to extend the romance of the night by buying some tobacco and rolling papers. It was a misty rain and the stroll on the cobblestone streets seemed to call for it. Since I am not a smoker it was an epic fail and I tossed my investment in the "bin" on my way back to my quiet b and b.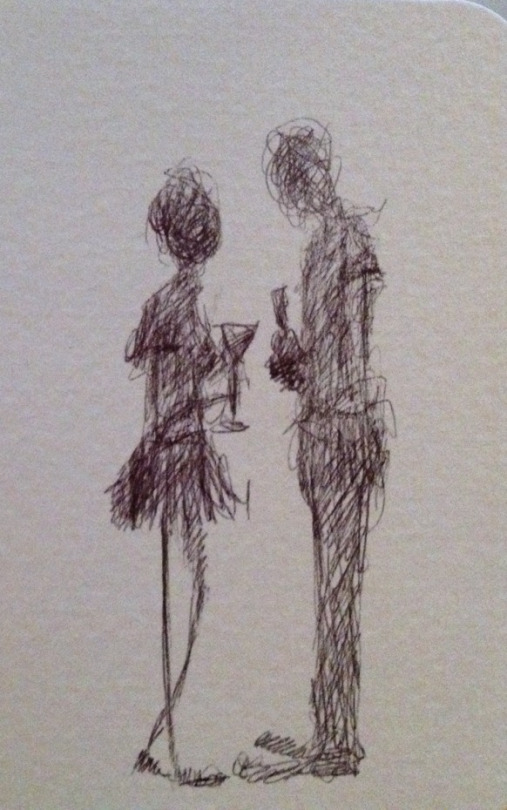 Catching up
This was Season 2 of Vikings. There was a thrill in the air. Reconnecting and knowing it was going to be long and hard but there were guaranteed to be some great laughs...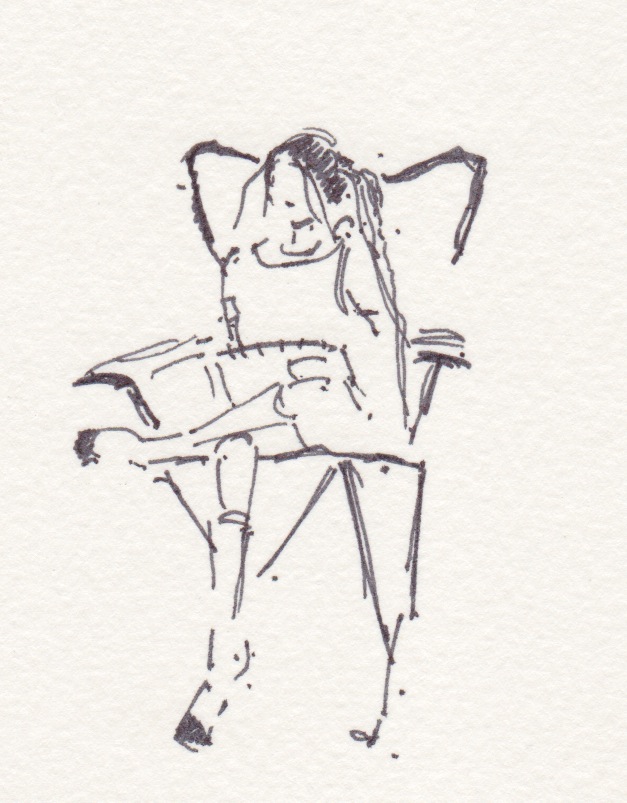 Lunabelle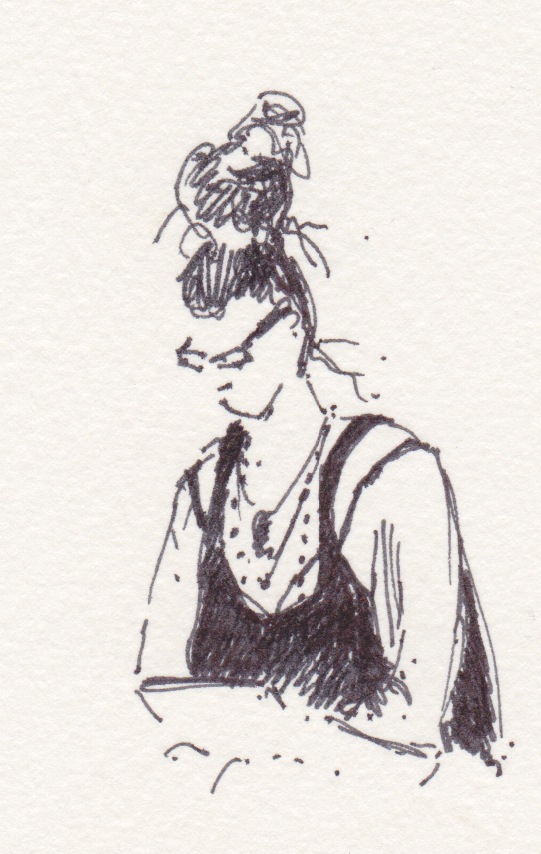 Jude
A beautiful friend with incredible talent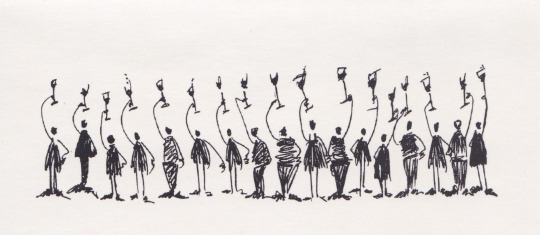 Season 2!
Drew this to celebrate our Season 2 pick up for Vikings!
In transit
The first year of Vikings I was trying to commute from Ireland to LA in order to be as present for my daughter as possible. What was I thinking?! I spent so much time in airports and on planes. I remember seeing this woman with her bag and it inspired me to commute without even a carry on. It looks mighty suspicious to immigration when you fly from LA to Ireland for the weekend multiple times, with no bags!
Just a doodle
Rome
Before I was married my ex and I traveled to Italy. This was the view from our window in Rome. A different time, a different self...
Wicklow
This was a glorious hotel I stayed in the second week of Vikings before I found my little house by the sea. It was like something out of a storybook. It turned out only Alyssa, Thorbjorn and I were staying there and we had wonderful meals in the formal dining room. It felt like we had stepped through time.
Sayulita
Took my little girl on a real vacation to Mexico. Such a dream to see her play in the waves, stay up late and relax into the environment.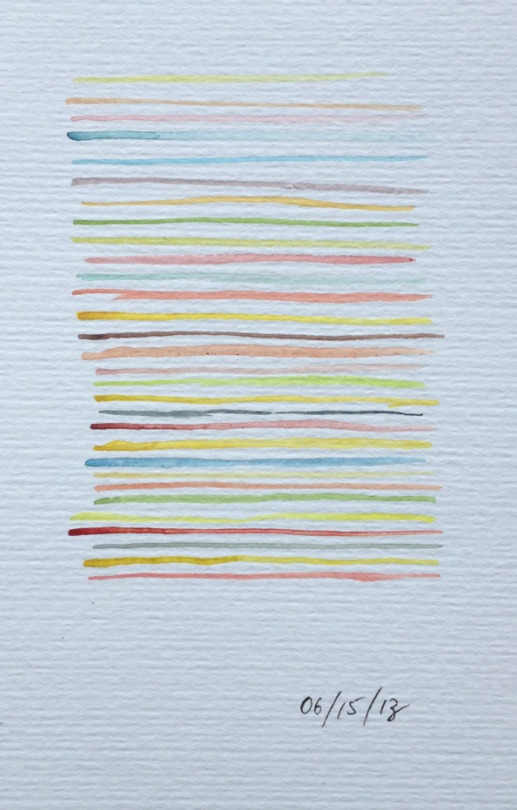 simple can be best
what I bought
When I moved into my cottage by the sea for Season 2 I stocked up on a few things. Here are some of my purchases.
Seattle
A piece of my heart lives in Seattle
New Years 2014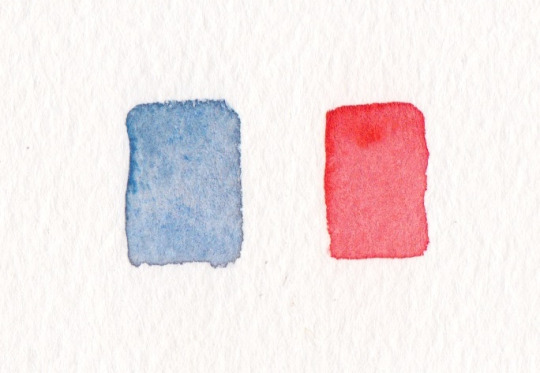 Charlie Hebdo
Balance
I remember I drew this on the plane on the way to Toronto to do press for Vikings. I was thinking about my daughter and how much I was traveling at the time and how much I felt I was missing. But I had agreed to a job and I needed to provide for her. It's a balance every parent struggles with. Maybe exasperated a little more when you are a single parent. But I can't say because it is all I have known for most of her life.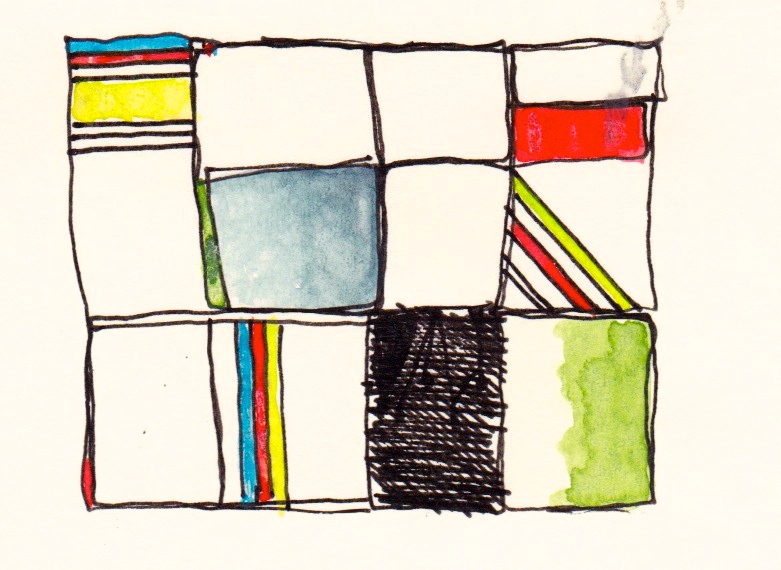 ladies
I love these ladies. I drew them obsessively. I have many more! No idea why...
draw what you see not what you know
Sometimes when I am looking for inspiration I start by drawing what is in front of me.
Cape Town
I was filming in Cape Town South Africa when I found out I was pregnant with my daughter. Being so far from my world made it possible to keep it a secret for many months and I would walk the streets talking to her. I even kept it a secret from production until month five when we had to let my costume out!
me
I drew this in my trailer on the set of glee
Seattle
Many years ago I did a play in Seattle with Julie Harris called Scent of the Roses. If you can believe it, it predated Starbucks. There was a beautiful coffee shop I would go to every morning and the barista (a term I had never heard) would prepare the prettiest latte.
Boston Public
This is a tough one. Someday maybe I'll get into it. But basically I moved to LA in my mid 20's to be on a television show. I was there for two seasons and was then let go. I went to New York and did a play for a year to "recover" and remind myself why I had become an actor. It all felt like a failure at the time. But now, I guess I realize it was just a thing that happened...
Make-Up
Was in my trailer one day and I realized I had no drawing supplies. So I used my make up. I especially liked using the foundation for skin!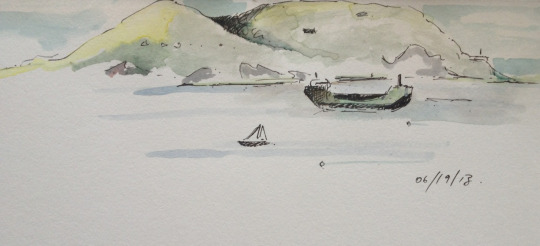 by the sea
This was my view from the upstairs window of my cottage in Dalkey, Ireland. Can you believe it?! It really was a story book setting.
Chelsea Handler
I bought Chelsea Handler's book at the airport. And once I had read it for some reason I felt compelled to draw her from the cover...
Shameless Plug
A couple of years ago I produced an independent film called Somewhere Slow which I was also in. I had recently joined twitter and was really uncomfortable with the idea of self-promotion. Not a great look for a Producer! I drew this as a post to "plug" the film. Still working on getting comfortable with the concept...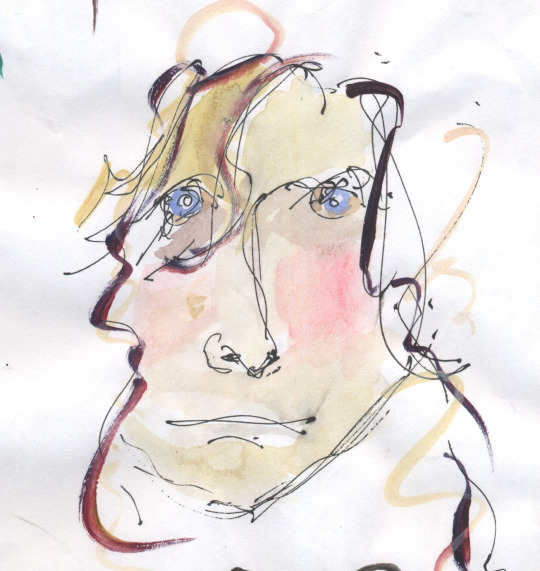 more waiting...
This is on a set of my Nip/Tuck sides. Must have been sitting in my trailer, waiting...I loved that show, and my role. What a gift!
ladies
I drew these ladies on the back of my sides on set. Can't remember the show. But someone lent me some sharpies and I went with it. I could draw these ladies forever...Always thought it would be fun to animate them...
ugh
I think in one year I had three iphones. I really am more fit for an old- school flip...
what I saw
Sometimes if I'm in a coffee shop waiting for a friend I just draw whoever I see around me....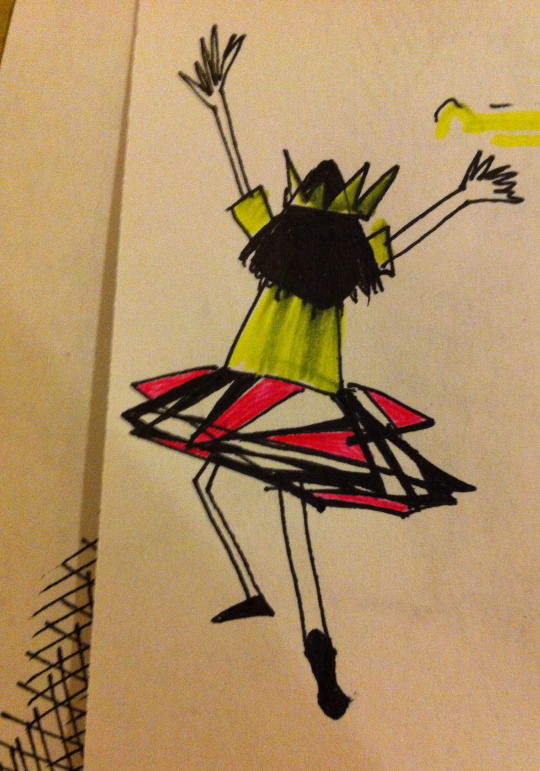 Children's Book
A friend and I were bouncing around the idea of doing a children's book. I have a pile of sketches trying to capture the exuberance of childhood.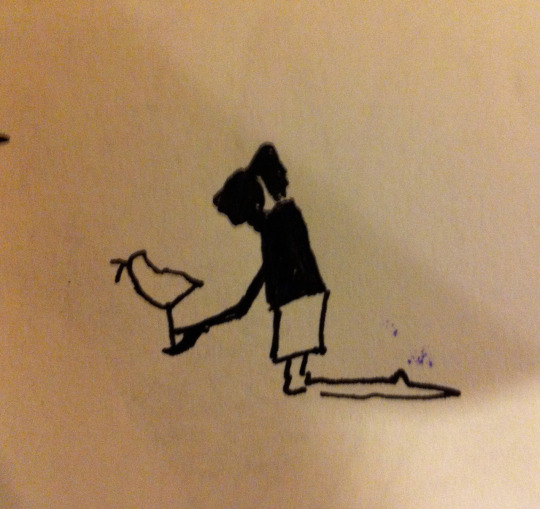 children's book
tee hee

doodle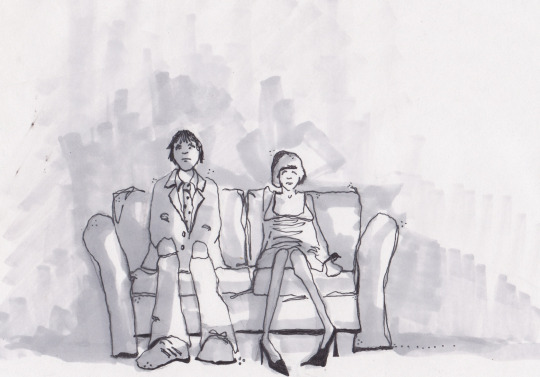 I drew this for my friends who produced a play. I have to get the name, I think it was something like "Hell and Other People". It surrounded the anxiety in anticipation of a dinner party. Absolutely hilarious and painfully relateable.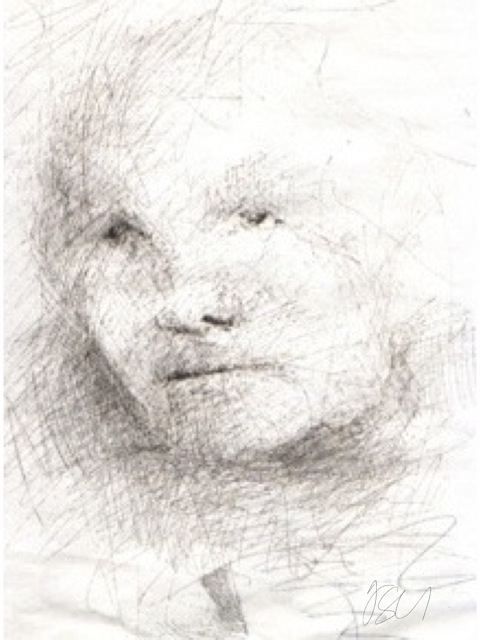 NYC subway
When I lived in New York I drew on the subway all the time. Sometimes someone would realize I was drawing them and in that case I would give them the drawing. I wonder if people ever kept them...

Mother's Day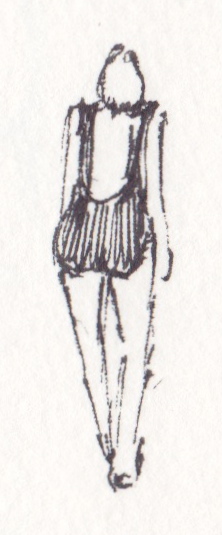 at the beach
I love to sketch on the beach. Endless inspiration...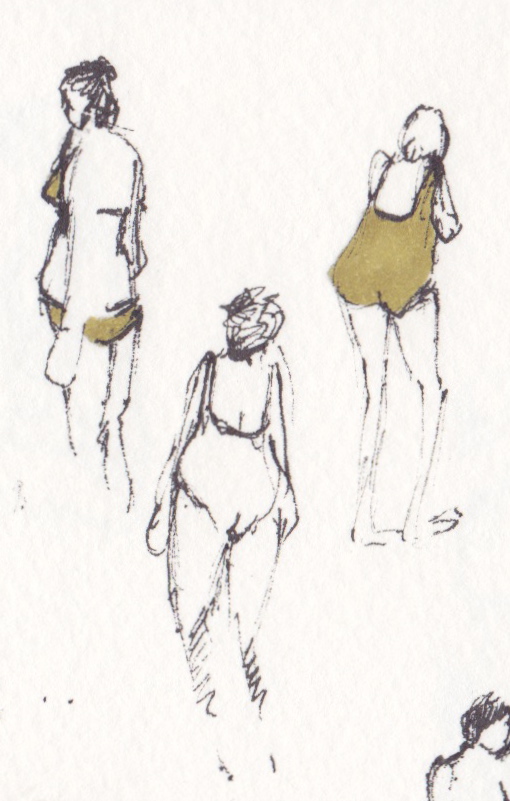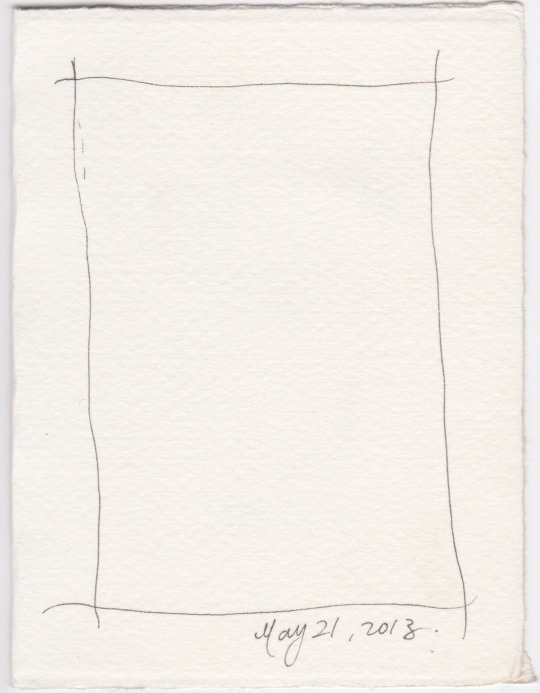 vide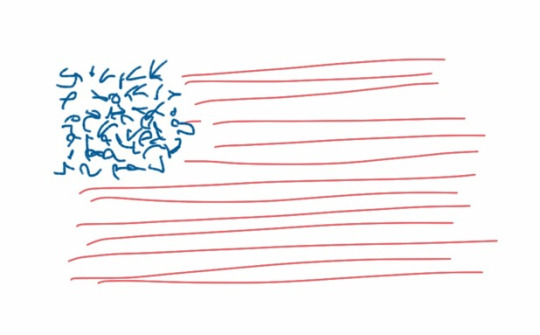 I became an American Citizen!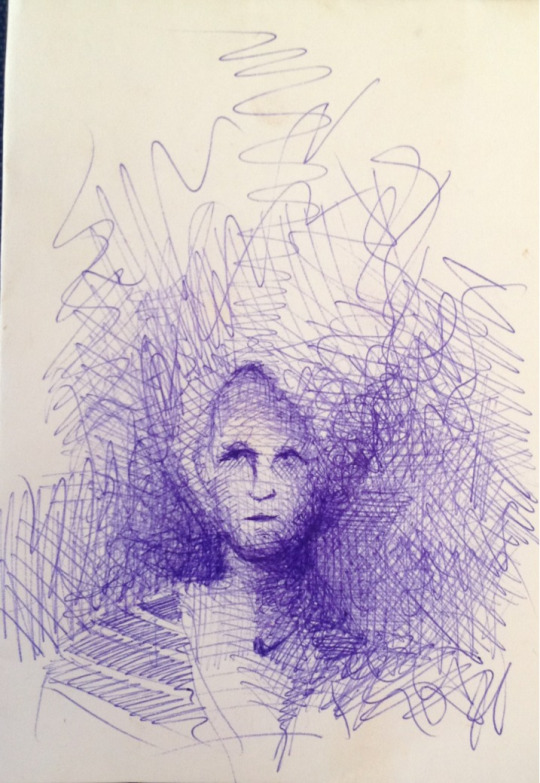 doodle
I love to doodle when I'm on the phone. We don't talk on the phone as much anymore and I have fewer doodles!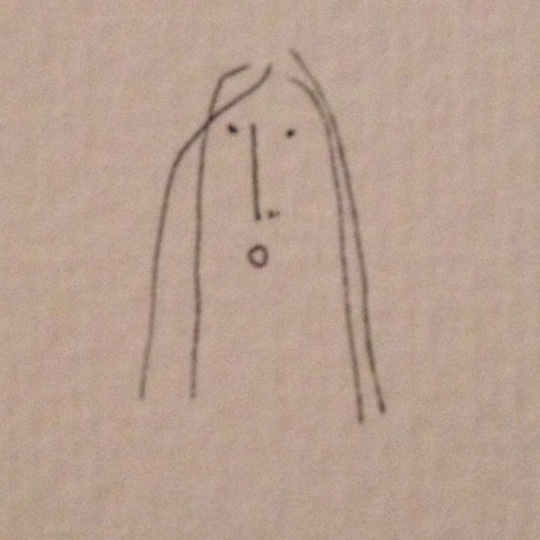 self portrait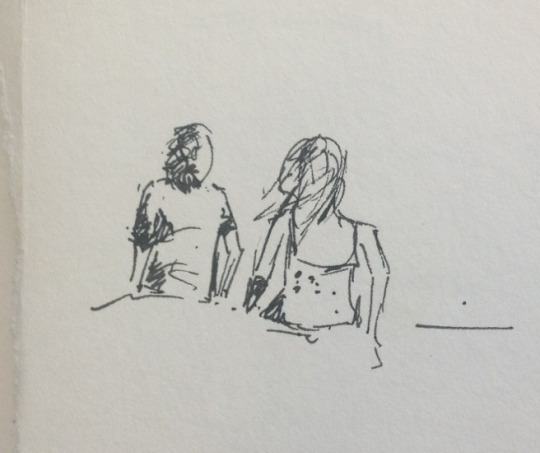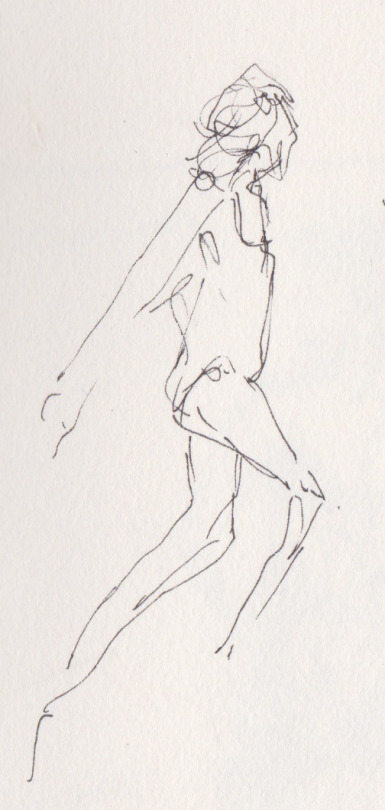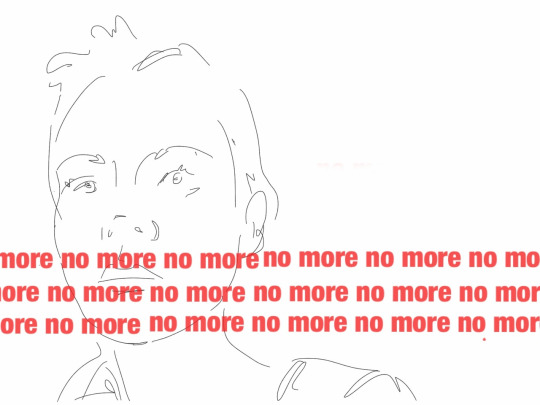 no more
When I was working out of town I learned that my ex husband and father of my daughter was expecting a child with his girlfriend. I knew in my mind that i would never have more children but probably hadn't accepted it in my heart. I am so incredibly blessed with my girl, and I know it. I just always imagined having more. This was the realization that my daughter would have a sibling, only not from me. I am at peace with it now. Some things aren't meant to be...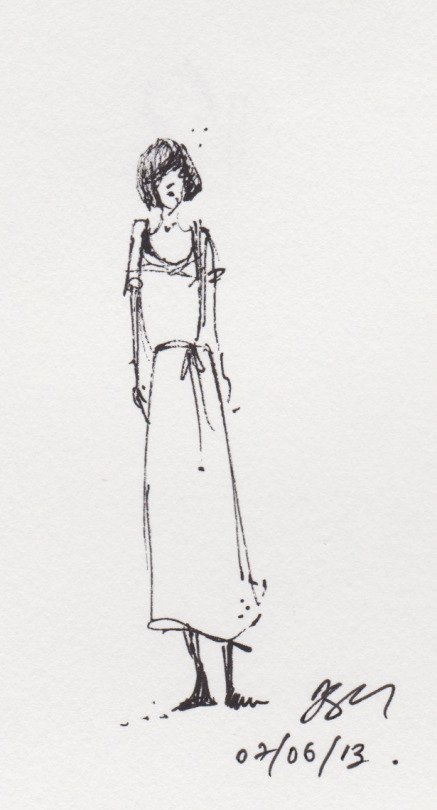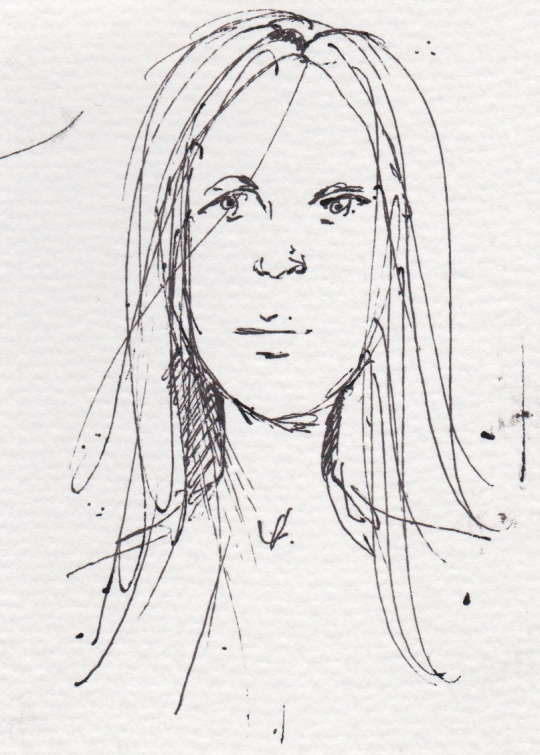 doodle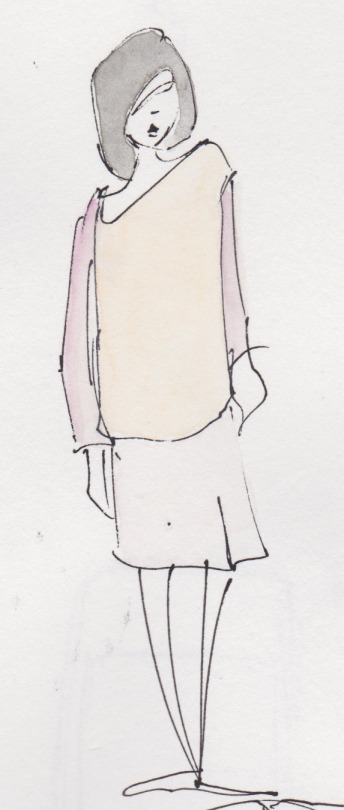 ladies
I have so many of these. Sometimes people suggest I illustrate fashion. If I did I think it would be street fashion. I'm not really a very fashionable person. I like it, and I like it when other people are fashionable. It's just whenever I try, I wish I had worn a white t-shirt and jeans!
Corey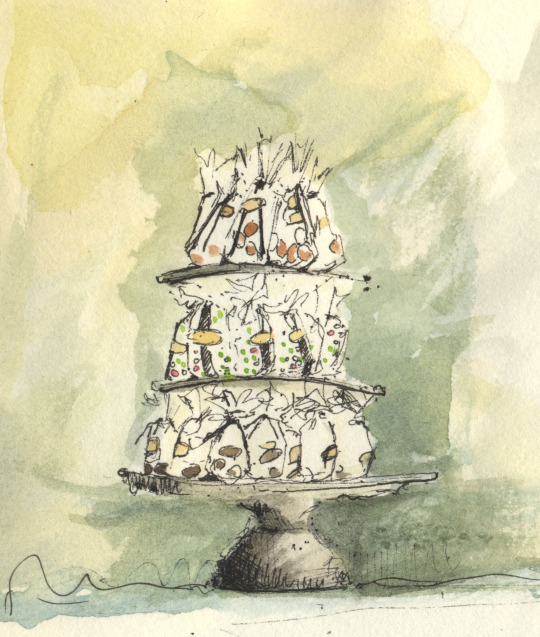 Susina
This is from a cafe I love in LA. I often go there with my dear friend Caroline to catch up on life.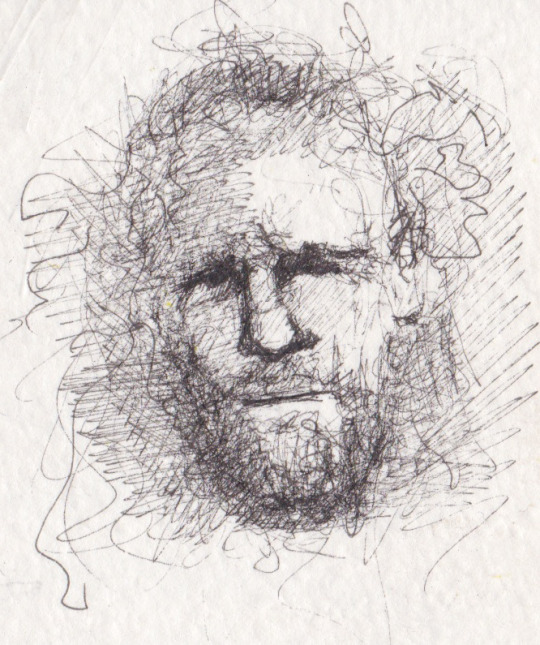 extras
There was no shortage of inspirational faces on the set of Vikings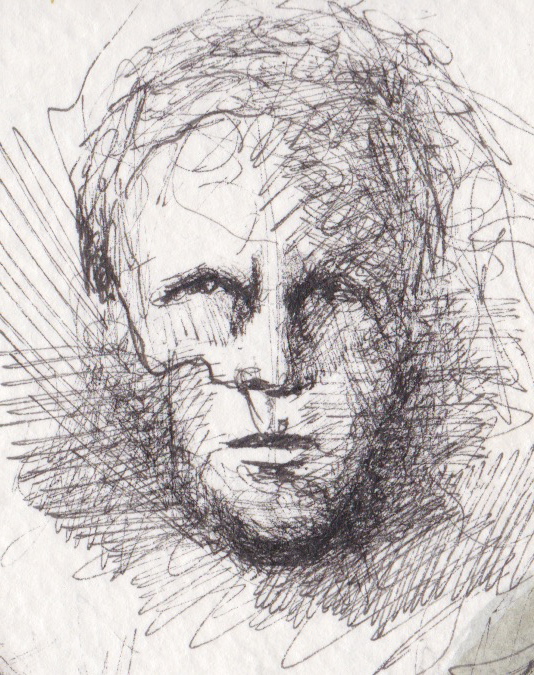 extras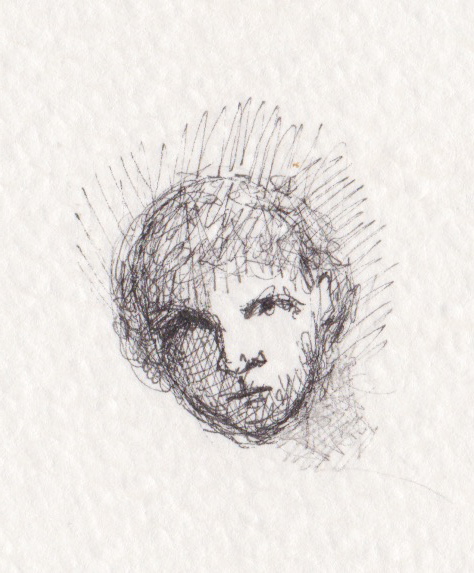 extras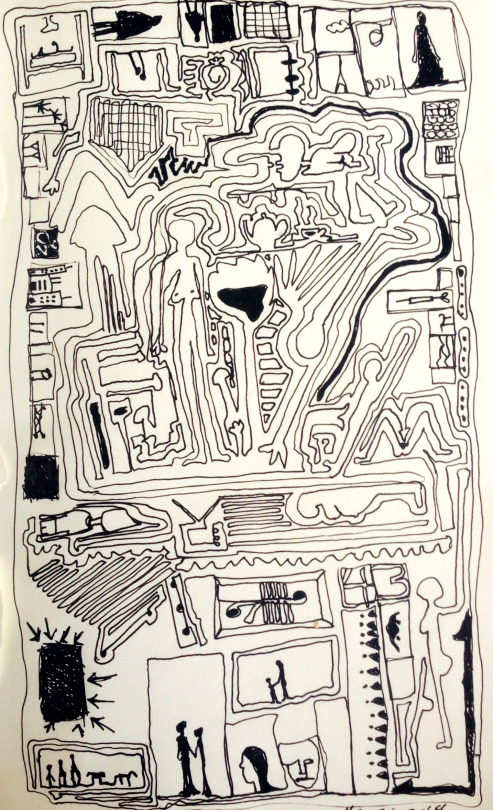 life in a page
This was a goofy idea I had. Can't remember where I got the idea...to try and draw my life in a continuous line.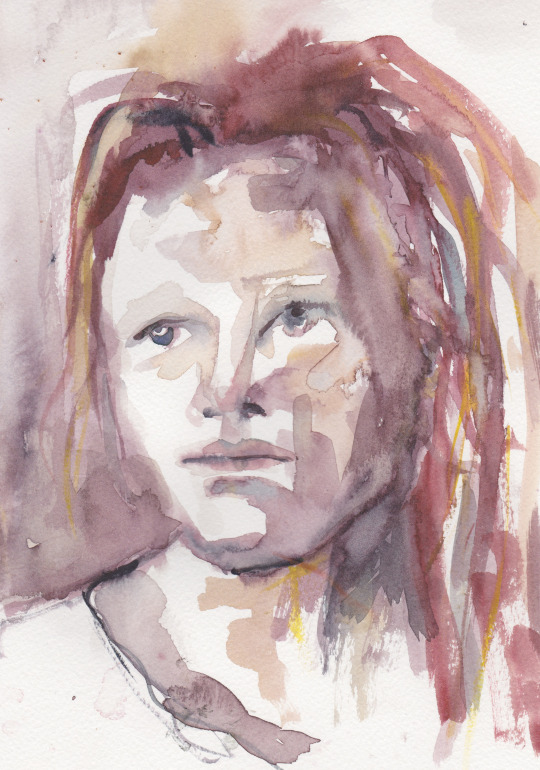 watercolour
I could spend my life trying to learn how to really capture a portrait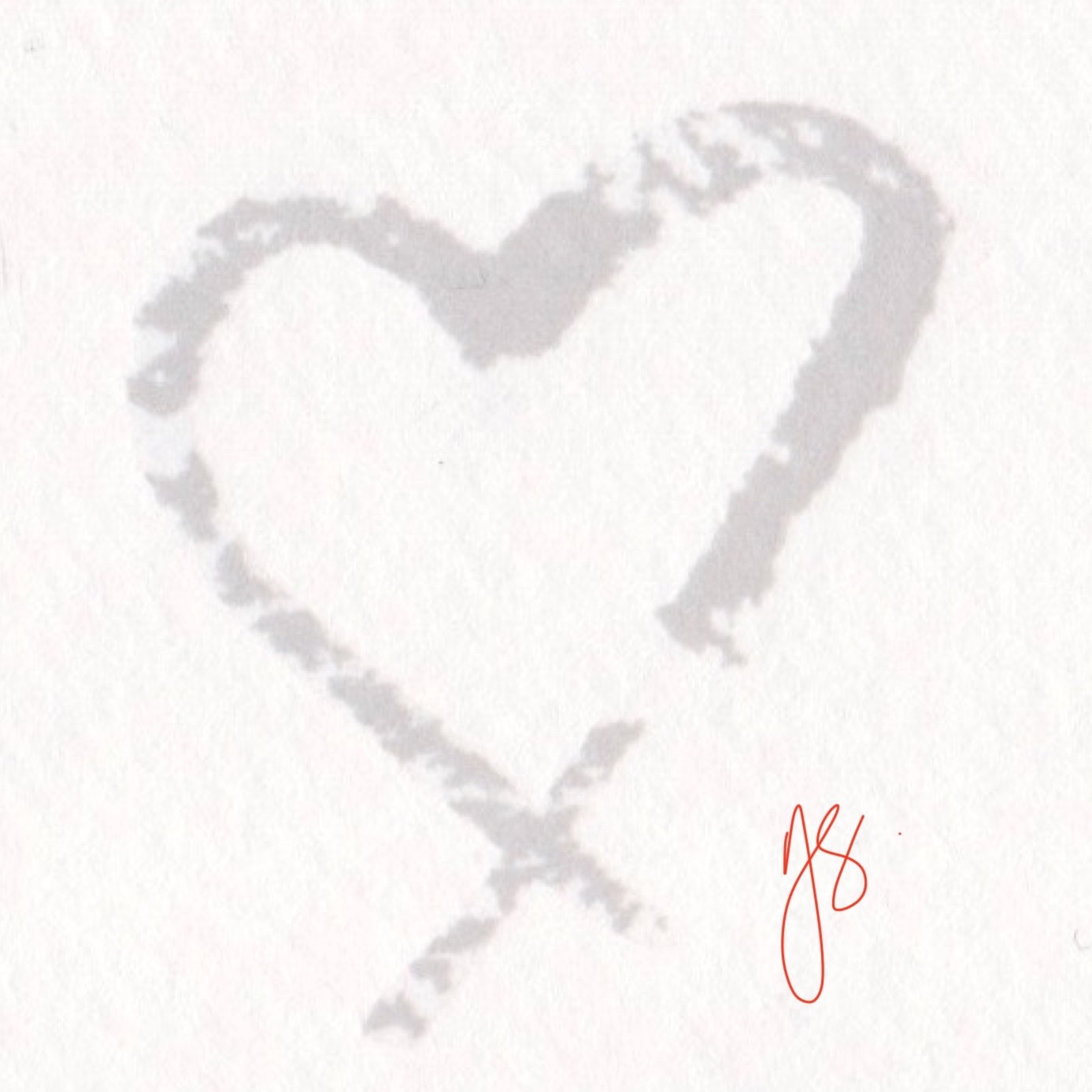 02/14/15
Hurry Up and Wait
These pieces are just a small representation of what I have done with the countless hours I have spent on set, waiting...
Click the information button beside each image to find out where I was and what I was thinking.
Hope you enjoy!